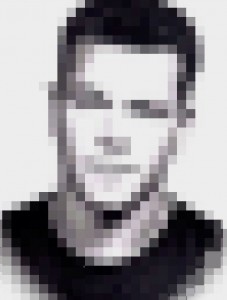 Spanking hot young boys is my obsession. I was a senior executive with a multi-national corporation. I chucked my job, my wife and my cosy life in the suburbs to follow my passion for filming reality porn of young twinks with the bubbliest boy butt I could find on my prowl of the streets and subways of Europe. None of the boys are professional models and all are 18 or over. Each boy is painstakingly plucked for quality. Lovers of spanking really will find no compromise on the bubble of the butt found in the hidden treasures of these galleries. Since I hopped on the first flight to Moldova to indulge my obsession, I have spent the past years traveling, prowling the streets of Europe for innocent twinks, persuading them to bare their young ass while I spank and fuck them. Some are rent boys, some are strangers I stopped in the street and some are seeking sugar daddies. Watch my videos of me spanking and fucking them, turning their asses red with heat and pain, humbling them, and then feeding them my cock as a reward for their service.
Click HERE for New Male Spanking Site
This is Sandy, a super-cute blonde 18 teen with a dream bubble-butt and tight young toned muscles. He let me do almost anything I wanted. He said he was exploring his sexuality, he prefers girls apparently but hey, what do I care – I just wanted to get his luscious butt over my knee and spank it till it turned hot red. And thats exactly what I did do. With each slap to his perfectly formed ass he made little gasps for air and groaned each time, this butt skin turning redder and redder. It was his first time and said he didn't like being spanked much but he revealed he thought he hadn't been spanked enough. Who am I to complain? Slapping those hot cheeks I could feel his cock getting harder and harder, so something was working for this cutie.
Will is a young, slender, tight-bodied teen with super smooth skin and a real attitude. He's straight and it was obvious this tearaway needed a good spanking after he revealed his loutish anti-social behaviour. He's cocky too but to his credit very aware of his need for a spanking, freely admitting that he's a bad boy and lacks discipline. I admired his honesty but it couldn't compensate for the necessity to spank this teens ass very hard. And so I did after I watched him shower, rubbing down his tight young twink body. I marched him from the bathroom then spanked him in many positions putting him over over my knee first and then again later, I stood him up, laid him down and bent him over in several other positions turning his cute little ass a burning red.
This is the second part of the long movie with Alife who is 19 with a shy demeanor and horny as hell. He has one extraordinary ass. When he pulled down his pants for his audition, I could barely believe my luck as this straight-acting gay bottom boy from the UK bared his perfect bubble butt. Questioning him about his sexuality he revealed he was 'top' until later I learned those boundaries could be stretched as this young twink moaned when I probed his ass and later fucked him. I started out by soaping him down in the shower, then shaving his ass, making it ultra smooth ready for his spanking. I spanked him in many positions, his ass bouncing around like a baseball and turning a determined hot red, I could barely contain myself. Nor could he, after a long spanking I fucked him and he jacked himself off shooting a big messy load.
Cyrus is the cute young boyfriend of Birt (below). He is an 18 year old college student and both have been dating for more than a year. I met the Cyrus's boyfriend on a gay social networking site where he told me how Cyrus loves to be spanked by him. I asked Birt if he would like to film me spanking his cute younger boyfriend and soon we had met at my apartment. Cyrus has a cute baby face and slender, smooth, toned twink body. He has tight little buttocks and super cute hole which I rubbed and poked with my fingers. As I cupped his Cyrus's ass in my hands, Birt filmed and was clearly excited as I smacked his boyfriend's ass hard, turning it a hot red colour. I got turned on knowing that soon after i'd finished with Cyrus, soon Birt was next and that it would be his first time. Little did I know what would follow as you will see below.
Birt is the hot active top boyfriend of Cyrus above. After I spanked Cyrus, Birt was quick to get over my knee but after a long hard session Birt asked if we could meet for another session in private the next day. I asked him why private? Well, it turns out Birt is a ass virgin and Cyrus is too much of a bottom boy to satisfy Birts secret desires. So the next day I smacked Birts luscious bubble ass in every position in a long spanking session before bending him over and pushing my cock into his tight virgin boy-ass. I banged him hard, my cock rock hard from watching his super sore red butt slamming off my hips. I smacked his butt as I fucked him, giving him a good hard fucking and soon his hole was sore so I cum into his bum, squeezing one cheek while I spanked the other. He grabbed his cock and began to jack off his big cock furiously and cum all over my shiney floor.
This is the second instalment of Mike. He is still curious about his sexuality and money is a good get out clause for exploring new experiences. This wonderfully smooth blonde bubble butt teen had never been spanked before or never been touched by a man before so it was a privilege to squeeze, caress and soap-down this horny young twink all over his young tattooed body, before giving him his first spanking. I had him in every position I wanted and whilst yelping with every smack to his prize young ass I could feel his hard young cock pressing against me, clearly this new adventure was something of a turn-on for this bundle of teen hormones, so I smacked his bottom harder and harder until it turned a hot shade of red before he jacked off and cum all over himself.
Ricky : 20 years old : British
Ricky is a super-bad boy. Car theft, petty theft, aggressive behaviour and violent incidents have characterised this lout's life for many years. He is straight but with a strong penchant for a male authority figure. In hope of finding it in gay bars, he waits for a daddy in the hope of obtaining structure and discipline in his chaotic life. He told me his past of recreational drug use, volatile relationships with girls and his criminal behaviour. I get a sense of frustrated regret so I ask him if he has ever been disciplined for what he did. He looks at me with suprise and tells me his time in prison was a breeze. He is intrigued when I ask him if he thinks whether the opportunity for discipline would do him any good: he says he is sure of it. So I tell him that for the night I will do what his father should have done years ago. In return I was able to share this video with you as part of his punishment.
Scott is a rent boy in the subways of the Moldovian capital. I picked him up really easily and offered him money to feature on the site. With golden sun-kissed skin, a tight toned upper body and a baby face that would make anyone melt it was hard to resist this cute young beauty. He had just turned 18 and had only been spanked by his father, he found the experience amusing at first. As belted his perfect young ass with a leather belt he knew this wasn't a joke. He took his spanking extremely well and thanked me at the end. I rewarded his manners with a hug, during which time I could feel an erection through his tight sport shorts. He touched my cock and asked me if I would fuck him, I didn't hesitate but to accept his offer, I flipped him over, ass in the air, I lubed him up and assured him I would be gentle..
Bobby : 19 years old : Romanian
Bobby is a 19 year old waiter in a cafe. I knew as soon as I checked his ass while he washed the next table that I had to have him for the site. I offered him a weekend away and soon I was groping his luscious smooth body. He has one of the most mesmerizing bubble butts I've ever seen with a tight toned upper body and sunkissed skin and glorious white (did I already say how magnificent the ass was) bubble butt. I got him in the shower and poked, squeezed and caressed his hot young body. Soon I had him over my knee, spanking him in every way I could think and squeezing his heavenly smooth ass. Screaming out with every stroke, after his spanking Bobby pulled out his hard young cock and began jerking away the frustration of the spanking, shooting a luscious white load all over himself.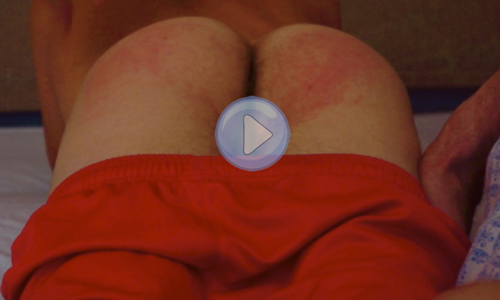 Billy : 20 years old : Hungarian
I couldn't wait to get this hot young stud home when I bumped into him at a disco at the centre of Budapest. Billy is one of only three boys to feature on the site a second time. I spied him on the dance floor showing off to the girls, I decided to pursue this straight young thug one more time. Billy is eager to show off his body and is proud of his fit young ass which spanks beautifully. Keen to hide his reaction to the spanking, Billy is a proud boy and puts on a brave face, deep down knowing he deserves it. He begins this movie by washing down his toned young bod, I help him soap himself down in the shower too and poke his straight young ass. After I lead him to his punishment, spanking his ass until it is crimson red. After his spanking he watches porn and jacks off a huge creamy white load. A must see.
Will : 18 years old : Hungarian
Will is the 18 year old super cute cousin of Billy (who featured on this site last summer and once again this month above). Probably you can see the similarities between them, an exceptional pair of twinks. Will has smooth sun kissed skin and a cute bum – this tight little street boy took a good first spanking, resulting in a luscious hot red patch on his gorgeous young ass cheeks. I soaped him down, trimmed the hair around the hole of his smooth young ass, caressing his tight bod everywhere, he was soon sucking my cock. Over my knee, his tight ass cheeks popped up repeatedly thru his blue sporty shorts, I smacked this hot boy hard, constantly whimpering as his ass become more and more sore. Horny from his spanking, Will – a straight young twink – watched porn as he jacked off and cum a bucketload of creamy white heaven.
Kalman : 18 years old : Czech
Kalman is a dreadfully arrgoant 18 year old twink in desperate need of discipline and humility. I met him at a party in the heart of the Czech capital. I spied him at the bar, took my chance and offered to buy him a drink. He smirked knowingly, but little could he really guess what was coming later. Appealing to his vanity I offered him the chance of a career in porn. Soon after he was revealing his hot tight twink body, with creamy smooth tanned skin. I fondled his hard dick as he showered and probed his luscious muscley teen bubble butt. He had never been spanked before and whimpered like a tearful little boy with ever stoke to his deserving young ass. My cock was rock hard as I had him over my knee and during the spanking his dick was hard too. Finally he jizzed everywhere and asked when we would be making another.
Jake : 19 years old : Croatian
Jake is a sweet twink with a heart of gold and magnetic personality, I almost fell in love and could barely bring myself to spank him so soon after he told me of his hard life on the streets of Croatia. Fortunately, my hard dick got the better of me and he was soon over my knee receiving his first ever spanking, but not before I fucked this extremely cute young twink. He had a lovely tight upper body and a tattoo, which always drives me a bit crazy. I pounded him standing up, sitting on me, laying flat on his chest with his bum in the air and finally doggie style, he could really take a good ass pounding as you will see from videos uploaded this month. He spanked well too and his ass was a hot shade of crimson red by the time we were finished. Jake admitted enjoying the spanking and I think we will see more of him.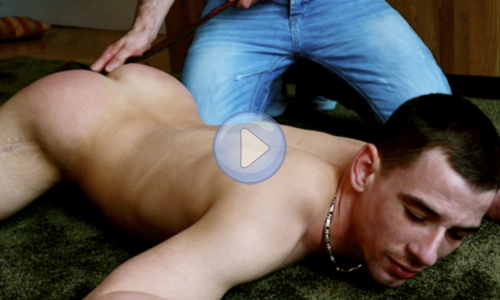 Tomas : 23 years old : Hungarian
I met Tomas, an ultra masculine bi curious guy in a cruising area of the capital city in Budapest. I followed him into the bushses and offered him a paltry amount to suck my dick. We moved to a private spot where I took off his shirt and pulled down his pants, revealing a lovely toned twink body and ultra smooth skin, I knew then I had to have him for the site so I made him a much more generous offer. Back at mine I fondled him in the shower and after spanked his hot twink butt for the first time. His ass turned a wonderful hot red and I was clammouring to fuck him so after the spanking I flipped him over without any complaints and pushed my rock hard cock slowly but surely into his tight young hole. This young rougha nd ready twink was gona get the pounding of his life, as is evident in this months uploads.
Alfie : 19 years old : British
Alife is 19 with a shy demeanor and horny as hell for his first ever spanking. He has one extraordinary ass. When he pulled down his pants for his audition, I could barely believe my luck as this straight-acting gay bottom boy from the UK bared his perfect bubble butt. Questioning him about his sexuality he revealed he was 'top' until later I learned those boundaries could be stretched as this young twink moaned when I probed his ass and later fucked him. I started out by soaping him down in the shower, then shaving his ass, making it ultra smooth ready for his spanking. I spanked him in many positions, his ass bouncing around like a baseball and turning a determined hot red, I could barely contain myself. Nor could he, after a long spanking I fucked him and he jacked himself off shooting a big messy load.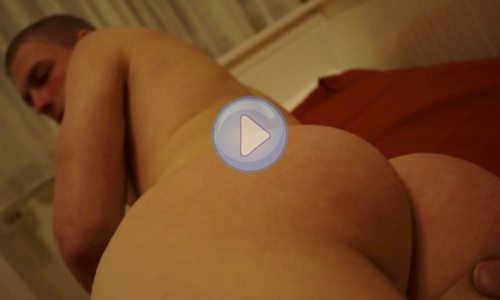 Mike : 18 years old : British
Mike is mates with Rowan below, I was introduced because like Rowan, Mike is curious about his sexuality and money is a good get out clause for exploring new expereinces. This wonderfully smooth blonde bubble butt teen had never been spanked before or never been touched by a man before so it was a privilege to squeeze, caress and soap-down this horny young twink all over his young tattooed body, before giving him his first spanking. I had him in every position I wanted and whilst yelping with every smack to his prize young ass I could feel his hard young cock pressing against me, clearly this new adventure was something of a turn-on for this bundle of teen hormones, so I smacked his bottom harder and harder until it turned a hot shade of red before he jacked off and cum all over himself.
Rowan
Rowan : 18 years old : British
Rowan is my most favourite encounter to date. Mixed race, just turned 18, cute as hell, and a first timer with a man. I encountered him working in a newsagent when I was on a trip to Manchester in England. I bought a newspaper and fixed his gaze for a moment. Perhaps unconsciously, Rowan touched the inner-thigh of his cotton grey track pants sensing sexual tension in those split seconds, I was sure then a deal beckoned if I could find the right words in those crucial moments. The next day I was pulling those same pants down, squeezing his hot brown bum and pulling his enormous young cock. I poked his asshole while he showered, turning around he revealed a huge erection. Later he was begging me to fuck him, but not before I spanked his luscious teenage bubble butt, moaning with secret pleasure with every stroke to his young ass.
Jonny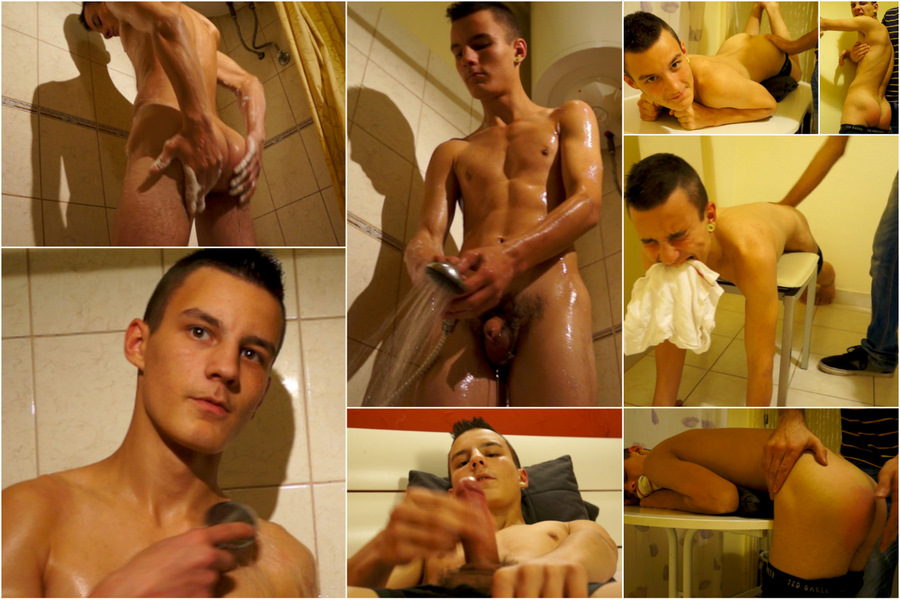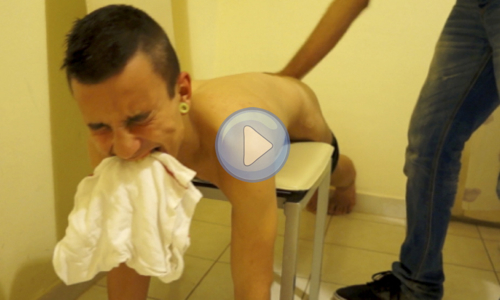 Jonny : 18 years old : Slovakian
I'd spied Jonny in the favourite subway hangout of the city's teenage bad boys, skaters and street boys in Bratislava. On our first encounter I missed my chance, an open goal – he'd asked me for spare change but his friends nearby made it awkward. Since then he'd stayed in my thoughts, so my heart raced when almost a year later I saw him again, with no one around I took my chance, I smiled invitingly at this cute little bad boy and enquired "Business?" – shorthand for sex and money.  Back at mine I took off his t-shirt to reveal his cute little toned upper body. I put my arms around him, he leaned his head on my chest whilst I cupped his buttocks, I got rock hard and knew then he was ripe for Spanking-Boys.
Eugene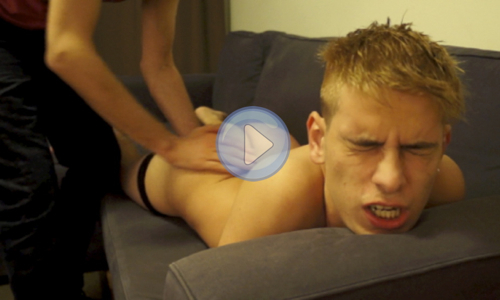 Eugene : 19 years old : Hungarian
Eugene is a model on a livecam site, its the first time I've ever used a professional model for Spanking Boys, always preferring fresh meat over seasoned pro's – but Eugene is an exception. His big fleshy bubble butt hangs on his slender frame in a manner ripe for the picking like no other cam model I'd seen. He teased me in his show online but i was only interested in persuading him to let me touch him for real and put that bad boy butt over my knee. Sure enough soon we're shooting a video. He started by giving me my very own one-to-one strip show in a hot soapy shower. Soon after I was tanning this livecam models's wonderful bubble ass in every position I could think of.
Spence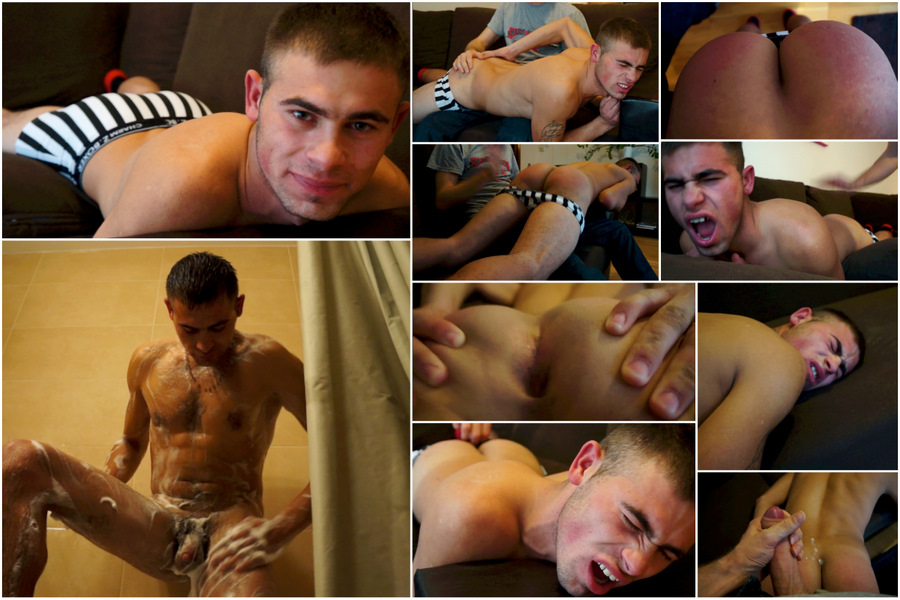 Spence : 20 years old : Slovakian
Spence is a cheeky jack-the-lad who will try anything once – and do anything to survive. He works as a shoe polisher in one of the large eastern european central railway stations, it was the perfect pretext to strike up a conversation and offer this lad some work. Once the deal was accepted I got him to my rented holiday apartment and stripped Spence of his clothes and ordered him into the shower where I filmed his thick but well maintained upper body. I shaved his hairy well-resistant muscly twink butt and made it ultra smooth ready to get him over my knee. Cleaned up and shaved I laid him down and pushed his ass in the air and spanked him harder and harder with every stroke.
Monty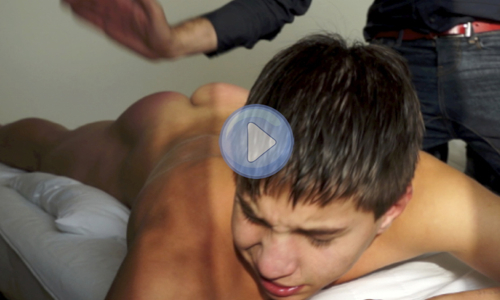 Monty : 18 years old : Romanian
Monty is a luscious escort boy I met online who refused to be filmed several times before he finally gave in. He has a bulging ass and a bulging cock along with a fit twink body. His cheap tattoo reveals the rough culture in he has grown into and the bisexual tastes of this twink. For just 18 he is streetwise and clued up. He is motivated by financial desperation but also intensely sexually driven. Taking advantage of these weakness, I persuaded him to let me spank his ass on camera for you guys to gorge on. He has one of the greatest asses I have seen and I certainly gave it a thorough spanking, over-the-knee, bent over the bed, standing and more. I am sure we will see some more of Monty, he is certainly one of my favorites.
Lorrie
Lorrie : 18 years old : Moldovan
Lorrie is a cute bubble-butted Moldovian boy with smooth light brown skin and a tight slender frame. He had not long turned 18 when I spanked and fucked him. His youthfulness was charming but he was also a naughty twink who had got himself mixed up in minor troubles, but was probably savable as far as bad boys go. This barely legal twink had teased me online where he had advertised himself as an escort, thinking we'd never meet, so he was suprised when I flew him to Bucharest to make a film and ordered him to fulfil his online flirting. I got my revenge turning his tanned hot round teenage bum a sore colour before fucking him hard on the bed and again the next morning.
Thierry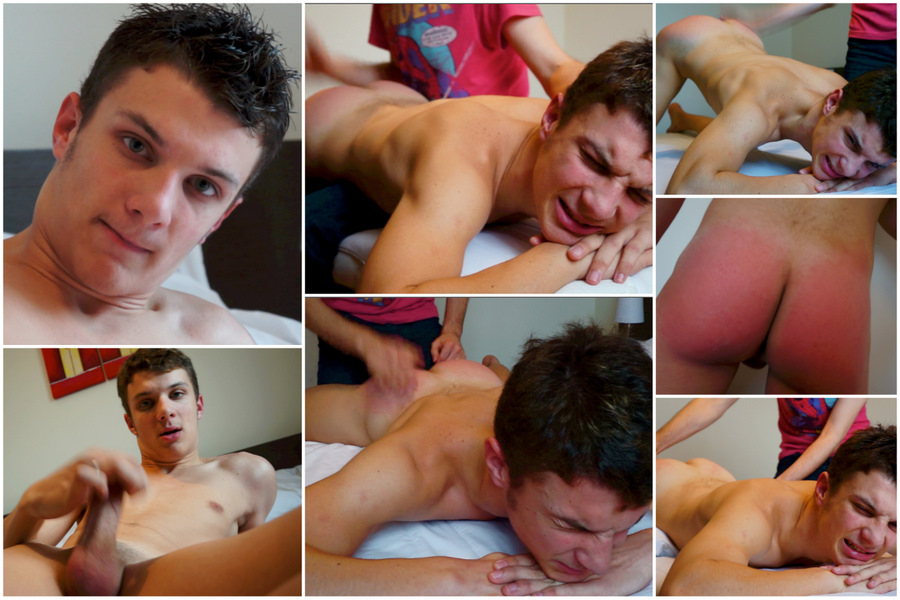 Thierry : 19 years old : British
Thierry is a handsome slender boy with pale and ultra smooth skin and a very cute face. He was desperate for his first spanking experience and frequently fantasised about being over an older guys knee, but had never had the confidence to meet with a guy. Initially refusing to go on film, luckily he gave in to my persuasion and agreed for me to carry out his first time spanking for the website. First he showers then jumps onto the bed and pushes his ass into the air asking when we will start. I really gave it to this luscious teen, smacking his cute little bum hard until it turned a hot red. So horny, he grabbed my cock at the end and asked for me to cum on his face.
Jess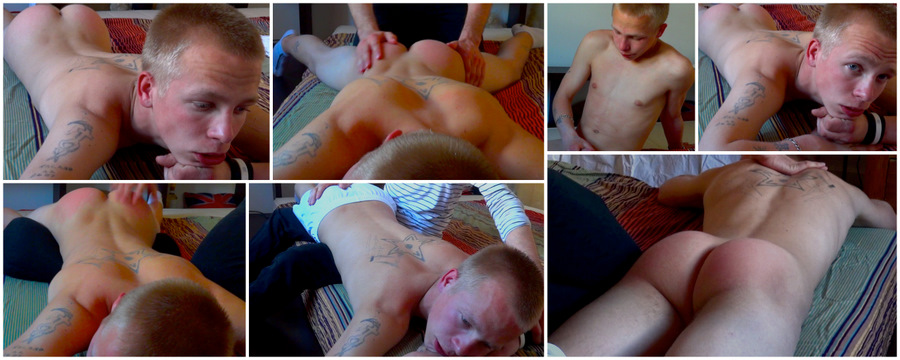 Jess : 18 years old : British
Another naughty young twink has been added to the ranks of smooth vulnerable chavs in need of good over the knee action – this is Jess, a cheeky British youth I met roaming the streets. He looked lost so I asked him if he was okay. After a short chat he revealed he was looking for a job but no one would give him one so I kindly offered to help him make some money. He said he would let me spank his ass for cash on video for the site. He was quickly keen after I offered him a weekend away and soon I was groping his sweet little ass before getting this cute first timer stripped and in position. I smacked the young chavs' ass hard, groping his tight hole, I was hard as hell and later discovered he was too..
Roland
Roland : 19 years old : British
Roland is a fit 19 year old amateur kickboxer I met at a rentboy bar in London. He was a typical rough, tough talking streetboy. He has a girlfriend but she has no idea how her boy makes his money, which is just as well because he seemed to relish his butt being beaten by another man. After a few drinks, this toned young thug was keen to experience his first spanking. I have to admit, I was wary at first he might turn his fighting skills on me, so I made sure there was no room for doubt and administered some uncompromising discipline, just what this young twink needed to know his place. His coffee colored body hid the burning on his skin, but he could not hide the pain as he yelped with each stroke of my hand.
Mick
Mick : 18 years old : British
Mick is a very special 18 year old British twink from northern England who emailed asking if he could feature on the site. He explained that he was a virgin and hadn't been spanked before but often fantasized about it. I assured him he had come to the right place and I soon booked his flights to Bulgaria where we spent some days together partying and sight seeing. He was very shy but soon began to open up and discussed his fantasies. Before long, dressed in his soccer gear, I gave him his first spanking. Mick is a real cutie with a hot bubble butt and an exquisitely tight smooth ass hole. After spanking him hard, his bum was bright red and he finally let me take his virginity.
Jack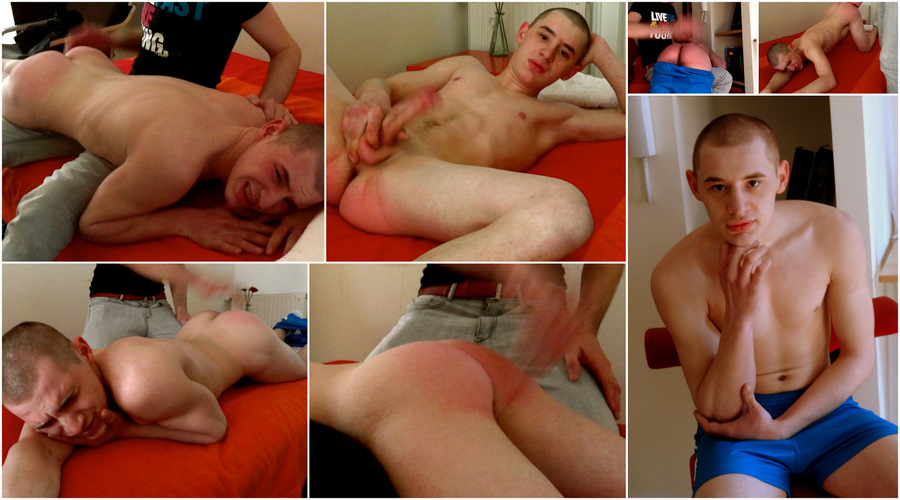 Jack : 18 years old : Serbian
Jack is dreadful at hiding the fact he loves to be spanked, despite all the squeals of pain, crying and begging he does in our latest session. Jack is however genuinely torn between the contradiction and intensities of pain and pleasure, and the connected senses of powerlessness and relief this unruly and deserving teen experiences in our meetings. In the beginning, though he connected the spanking with his criminal past, I believed this teen was in it just for the money, but spontaneously wanking off after his punishment, he was begging for another session just a day later. Happy to oblige this cute, rough and ready twink, his smooth bubble butt is in for some serious heat.
Marty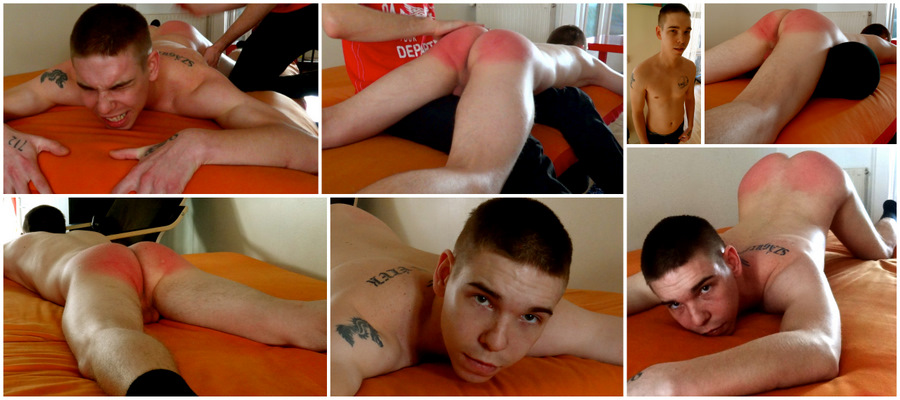 Marty : 19 years old : Hungarian
Marty is a thief. I happened upon him one day when a mate pointed him out as he was walking through a tight pathway into the large forestry of a cruising ground. My mate cautioned me saying I should avoid him as he was notorious for his kleptomania. I didn't care, so I followed him. This bit of rough was a rentboy so it didn't take much following to get him into conversation. I checked his tight smooth tattooed twink body. I invited him to my place wanting more space and privacy to get my way with him. As I was warned, I spied him eyeing things to steal as I returned from the bathroom but I'd already stripped him naked and locked his things away. What followed was the spanking ordeal he had needed for a lifetime.
Darrel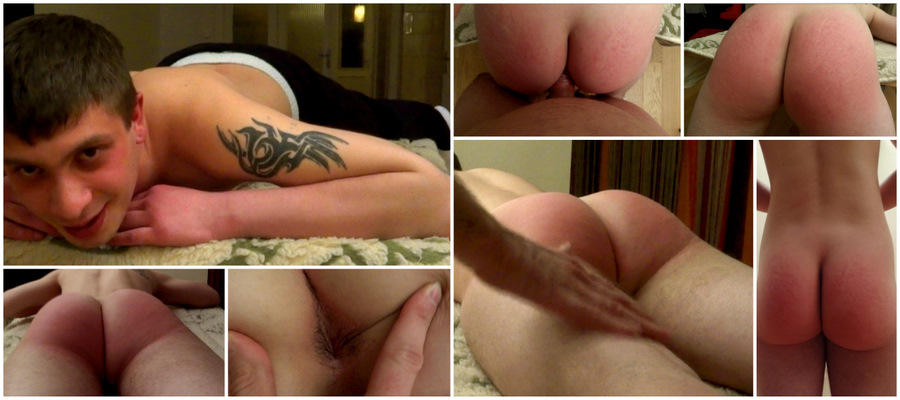 Darrel : 20 years old : Hungarian
Darrel is a cute student from Hungary I met in a cruising park this summer. He is bisexual and as I found to my delight, loves to be spanked and paddled on his bare young bottom. Finally after some persuasion, I was delighted when he finally decided to bare his prize young bubble butt ass for you all. By the end of his long spanking ordeal his hot ass was a bright shade of red, shaking and reeling from the pain, he was almost in tears as I delivered the final strokes to his poor phat ass. He was soon begging for my cock to distract from the pain so I bent him over the table where I had spanked him and fucked him as hard as I could.
Tomas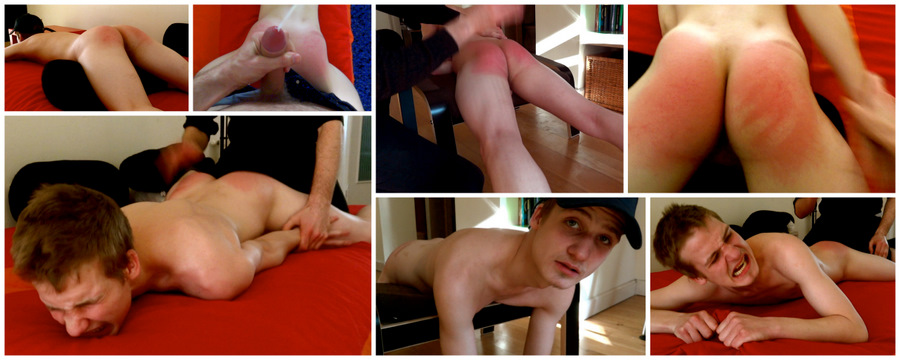 Tomas : 18 years old : Serbian
Tomas is an 18 year old ultra-smooth blonde cutie with a tight little body and a hot ass to match. I spotted him after his college football practice, clad in bright red shorts and from a distance I could see steam rising from his hot sweaty body. My dog ran up to him and they started playing so I took my chance to start a conversation. The rest is history. Tomas really felt the pain and didn't hide it, wincing and crying out as I smacked his hot smooth ass. I was his first experience with another man but I could barely pull him off as he sucked my dick like he had just discovered chocolate. He returned his gratitude by letting me cum all over his tight little bum cheeks and promised to let me go further next time.
Jack
Jack : 18 years old : Serbian
Jack is a straight uber-cute 18yr old willing to do anything for cash but a genuinely unruly teen. Jack revealed his past of anti-social behaviour, and knife marks on his torso showed his tough past of fighting and street crime. He is a victim both of circumstances and his own choices and we both knew after his confessions, that for him this spanking was partly going to be about retribution for those choices, but I was infinitely more interested in getting this gorgeous teen stripped naked for my own pleasures than for justice. Smooth and toned – with an bum to die for, I was instantly rock hard as he pulled down his jeans. After a long spanking and whacking with the paddle he was soon asking when we would make another.
Norbi, PART 2
Norbi : 20 years old : Estonian
This is Part 2 of Norbi, the scenes where I fuck his really tight bumhole. I first met him last summer and I never forgot his lean, strong body. My heart leapt out of my chest when I bumped into him again at a cruising park, we immediately agreed to go back to mine. We laughed and drank wine and then I told him about my new website. He said yes to a video even before the words were out of my mouth. I stripped him naked and bent him over my knee, spanking his bubble butt with my bare hand and then probing his sexy ass, imagining my cock pounding him. His ass was in for more punishment though: I beat him with my leather paddle until his cheeks were cherry red and bruising, and then I let my old flame deepthroat my cock in gratitude and then fucked him until his asshole was equally as sore as his hot red buttocks.
Jason, PART 2
Jason : 18 years old : Bulgarian
It would have been rude not to share more of Jason with you after all your emails praising his smooth twink bod. He still struggles to survive with no job and few prospects, but he has one asset that has unquestionable market value – premium grade bubble butt – along with a cheeky personality that would make even the most cold hearted master melt even just alittle. Passing through the central station one day I eyed him being loud and playing the joker with a large group of friends, I wanted him over my knee so I took my chance and called his mobile. He said he wanted to feel the heat and pain on his butt again, my cock was rock hard. I wondered what his mates would say if they saw his sorry bright red teenage ass hot from a bare hand spanking. Soon I was spanking one of them. Watch this space.
Wal
Wal : 18 years old : Romanian
Wal was standing outside a well-known fastfood establishment as I walked by and his cute face and sense of innocence caught my eye, my glace in turn had caught his attention too. Walking past him I discreetly turned around and we exchanged faint smiles, I turned and beckoned him towards me. Not long after we were at my apartment, I started by slapping his ass to test him and soon we were filming. Wal is slim with very smooth creamy skin and an ass fuller than you would expect for his size. I spanked his ass hard with my bare hand and paddle. He showed little emotion, perhaps desensitized by his tough past. I hit him harder and harder in an attempt to evoke emotion but he kept it all inside. He loves cock so I bent him over and fucked his tight ass hard, then afterwards dragging him onto the bed and pounding his smooth cute young ass doggie style.
Hamish
Hamish : 18 years old : Romanian
I met Hamish in a dance club where he was flirting with older men. I bought him a few drinks and suggested we party together. He agreed the next morning to a short holiday to Bulgaria where we could make a film and soon I had him naked over my lap where I basked in the aura of his smooth, soft, creamy ass flesh. I relished spanking him with my bare hand and cupping his buttocks, feeling the heat from the punishment. Hamish was a tough one though, perhaps numbed by the alcohol or the tough life on the streets of post-war Zagreb. He betrayed little emotion even as I lashed his flesh with a leather paddle. These tough Eastern European boys! Perhaps if we meet again I wil have to bring a cane or a tawse to encourage a more emotional response from Hamish. Watch the full video of me spanking his bare boy ass
Jon
Jon : 19 years old : Bulgarian
Jon has been one of my most fun dates since I started my sexual conquest of Eastern Europe. Jon works as a part-time waiter at a café around the block and we have become very chatty over the past few weeks. Like many young men, Jon dreams of being a famous star…singer, actor, he just craves fame and attention. I finally asked him if he wanted to make a video with me and he excitedly said yes. Jon acted like a preening pornstar for the camera, eye-fucking the camera, moaning, licking his lips, and gasping in pain every time I spanked his ass. Jon was special and I wanted to relish this first time experience for him. His ass was throbbing, hot and cherry red, he gave me a sloppy blowjob as a reward for making him the star of his own video and I cum on his ass in return.
Billy
Billy : 20 years old : Slovenian
This clip features another sweet newcomer to spanking, Billy, a chav boy who has been building his physique to try and impress girls. It took just a simple smile to attract the attention of this rough, ready and muscley street boy. Despite the tough exterior, he is submissive to the core – as I find – once he's sternely told to take off his clothes by an older man. He's spanked with a bare hand, his cartoon-round buttocks bouncing up and down, trembling and tensing up with every strike of my hand on his flesh. His ass cheeks turn a fun shade of red, and he tries to bury his head in the sheets to hide from the pain and the humiliation of being on camera. He thinks he's getting a break when the punishment subsides, but it's just me whipping out my cock to jerk off a big, messy load all over his ass.
Corvin
Corvin : 19 years old : Bulgarian
Corvin is from Sofia and is a rough tough street boy – you know the type, prone to anti-social behaviour, reputation for fighting with other teens etc. Well many boys who are willing to hookup for cash do it solely for the money. Not Corvin – he loves cock – which made making a spanking video with this teen alot of fun. I met him last year in a known rentboy toilet. I loved his slender but muscular body and got him quickly back to mine. There are full length videos of me fucking him inside the site in films we made last year. He loved making the new spanking videos this summer, even if his tough exterior didn't allow him to reveal the pain he felt. Corvin has an exquisite bubble butt, perfectly round, absolutely hairless and with the right persuasion, completely penetratable. This athletic twink takes a really good hot otk bare hand spanking.
Erik
Erik : 19 years old : Slovakian
Erik is a broke lad I met while I was enjoying a beautiful day in the park a few weeks ago. He had just lost his job and his apartment, and he was doing anything for cash. He asked me for money for food, and I told him I'd give him cash for a week if he let me spank him as hard as I wanted. He was shocked, but his financial desperation quickly came back to him, and minutes later we were zipping back to my place on my Vespa. His body was tattooed, and he had strong thighs and really meaty buttocks. I could tell the idea of being in a gay porn video was secretly exciting to him. I really gave it to him hard…bare hand, OTK, plus lots of hot corporal action with the paddle. By the end, this handsome gay boy was moaning and whimpering every time I spanked his broke ass. Erik is definitely on of my favorites.
Joe
Joe : 18 years old : Bulgarian
Joe is a lean, shy and inexperienced but very special twink I met this summer while I was prowling around Bulgaria. After some persuasion we arrived at my apartment and soon I was sucking his fat young cock, and when he pulled down his adidas pants, I spun him around and pushed him on the bed. I pulled down his tight boxers and saw his amazing, round smooth ass for the first time. I started smacking his ass with my bare palm. It felt so good to spank his naked flesh with my hand, feeling it getting warmer and warmer, and watching his flesh grow red. He was suprised at first but when I stopped spanking him he was so grateful he got on his knees and deep-throated my cock and let me fuck his beautiful teenage ass until I spewed my load all over his still cherry red ass cheeks.
Blane
Blane : 19 years old : Hungarian
Blane was the one hookup I had this summer that almost made me think I was falling in love. I watched him playing football in the park and I felt sick with nerves when I followed him into the public toilet. I told him he showed real promise on the pitch. He blushed a little. I knew he was mine. I asked him if he would join me for a drink and after several beers, I suggested we go back to my flat to watch football. We barely got in the door and his strong young arms were pawing me. I had to muster considerable strength to push him away, and then I told him I wanted to see his naked body. He eagerly complied. I turned him around and pressed my cock against his ass. He bent over and I smacked his bare flesh hard. After fucked him as hard as I could, blowing my load all over his crimson buttocks.
Danny
Danny : 18 years old : Bulgarian
Danny is another payboy from Sofia I hired and spent a week with at my apartment in Bulgaria. I initially lured him with me letting him think he'd be just sucking cock and fucking for money as usual, Danny was surprised when I finally offered him extra cash to perform for my website. Immediately after he agreed I ordered him to strip naked, groped his ass and spreads his asscheeks. I got him to lay down on the bed and receive his punishment. I used my bare hand to spank his full round bubble butt, and with every contact he winced and gritted his teeth to contain the pain. After spanking him on the bed I ordered him up on his knees for more spanking. I particularly like this view, because as Danny's ass is getting the bare hand spanking, we can see his big full balls swinging and bouncing in the rhythm of the spanking.
Rick
Rick : 22 years old : Bulgarian
Rick is a chavvy rent boy with a tough exterior but who underneath is a shy young guy who melts in response to fatherly discipline. I spied him one day on the periphery of a cruising park buying a coffee. My skin turned hot with the possibility that he might head in the direction of the park, he didn't, not immediately anyway. An hour later, sure enough he was sucking my cock in the bushes. He had gorgeous bronze skin and a toned upper body. I checked out his ass underneath his Adidas trackpants, it was full and smooth. Before long we were at my place filming his rosy cheeks being smacked and bounced around. He was afraid to show weakness, but that soon collapsed after the smacks got harder and harder. He admitted after the filming a spanking was what he had needed for a long time but no-one had ever offered to give him one.
Finch
Finch : 19 years old : Serbian
I met Finch when he was laying half asleep on the grass in a large park on the edge of the city known for gay cruising. He had a travel bag with him and was scruffily dressed – I knew then he was prime meat for target, since it was obvious he was an enticing mix of cute, handsome and available for cash. His backstory was typical – travel from the countryside to the city to make money, coupled with neglectful parents. Finch has a bum to die for so I was happy to play daddy and give him the loving care he understood – a good bare hand spanking. It was his first and so he seemed to feel the pain more than most, wincing and crying out after each smack. I shoved my cock in his mouth, his eyes watering, I turned him over pushed his butt in the air and cum a bucket load all over his beautiful boyish bum cheeks.
Ed
Ed : 18 years old : Romanian
Ed is a short young man at just 5'6 which meant I towered over him, able to get a good view of his ass as he sucked my cock amongst the thick park bushes. Upon seeing the spectacular fleshy mounds of butt on this teen I knew instantly he could be perfect for my site, so I told him to take off his shirt and after checking a toned smooth upper body, the deal was done. He needed a wash, a reflection of his desperation – I showered him and rubbed soap on him to clean his beautiful twink skin. Soon after he was over my knee, his little ass popping up and down and quickly turning red. Ed identified the spanking with daddy experiences. I spanked him harder and harder as he became erect, wanting to suck my cock, I eventually persuaded him let me fuck him and come all over his perfect little bum.
Tyler
Tyler : 18 years old : Bulgaria
Tyler is a cute young chav boy I found near a public waterwell by a notoriously cruisey subway in Bulgaria. I was slightly nervous making a move on him because it was such a busy public space, but he soon figured out what I wanted after an exchange of smiles before long we were on the tram to my place. My cock was rock solid on the journey home. Initially he rejected the idea of a video but with financial desperation concentrating his mind, he conceded in a meeting the next day. Tyler has a slender toned and smooth frame with a cute little ass, which he isn't shy of flirting with at all. I am almost sure this boy had experienced gay sex before, the way he took my cock in his mouth and ass showed a certain level of expereince, but had not experienced spanking, which appeared to excite even if it was obviously painful.
Teddy
Teddy : 20 years old : Hungarian
Teddy is a young man of the Gods. I met him a couple of summers ago before I started Spanking Boys. Teddy ruled out spanking but I included him in the SB collection anyway because he was such a good fuck and has the most beautiful ass on a twink I have ever seen – a full, squeezy but slightly muscular and perfectly rounded bubble butt along with a face of an angel. We initially met online where he talked about wanting to be a pornstar and we agreed to meet to make some amateur films. Fucking Teddy will be ingrained in my mind forever. He had just turned 18 but could take a really good hard pounding, despite having a very tight hole, moaning with every thrust. He loves being rimmed and sucking cock. This twink has since decided to follow a different career path so his feature here is completely exclusive.
(c) 2014 SPANKING BOYS. All rights reserved. Web Design by Jason Bobich